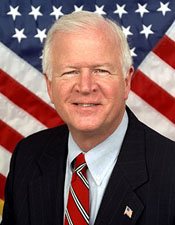 Last night Georgia's allegedly conservative Senator, Saxby Chambliss, said on the Senate floor, "America's fiscal house is in disarray. Our budget process is broken. And future generations will end up paying the price if we continue to ignore the difficult decisions required to fix this grave threat to our country's financial stability." He went on to say, concerning these problems, that "we've got to address it next year." Next year? Swell.
But what have Saxby's actions shown him to be? In typical fashion, in favor of continuing the big spending. He wet his pants with joy over the massive spending bill, which we can't afford, to inject the Federal government into every school lunch room in the nation. He's all gung ho for continuing unemployment benefits, which we can't afford, for the rest of peoples lives if need be.
And now there is an Omnibus Spending Bill on the floor of the Senate that is 1,924 pages long which will cost $1.25 trillion and includes 6,488 earmarks. Where, pray tell, is Georgia's Senior Senator? At 12:21 p.m EST, he was having a gay old time on the floor of the Senate, yucking it up with his colleagues as they considered amendments to yet another massive piece of pork filled legislation in order to let the people that actually pay income tax keep their rates the same for two more years.
No outrage from Saxby concerning the Omnibus Spending Bill. No anger towards the Democrats. No angst over the fact that the legislation would tie the hands of budget cutters through the end of this fiscal year. No appearances on television asking citizens to contact their Senators or to come to Washington to protest this fiscal abomination. Has anyone ever heard Saxby Chambliss actually get exercised about anything!?!?
Nope. Nothing from the Man from Moultrie, who never seems to show any emotion concerning his being witness to the destruction of the United States from within.
Saxby Chambliss continues to demonstrate that he isn't a conservative. Meanwhile, Rome burns.
This dude has it spot on: "Georgia's Republican U.S. Senators, Saxby Chambliss and Johnny Isakson must not cave to another trillion dollar Democratic Party extortion bill just so they can get home for Christmas."
But they will. And once they know that fighting may be difficult, they will support cloture on everything and then cast their vote against the legislation, lose, and head home in time for Christmas.
Or they could fight. Again, though, this is Saxby Chambliss we are talking about. Nevermind.