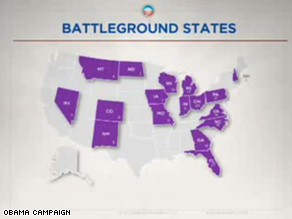 According to a report from CNN, the Obama campaign has highlighted 17 battleground states for 2008, and they do include the state of Georgia.
In a Web video sent to supporters Wednesday, Obama campaign manager David Plouffe displayed an Electoral College map that included 17 battleground states, including new targets like Montana, North Carolina and Virginia – and Georgia, where the redeployment of staffers elsewhere in recent weeks had raised questions about the campaign's determination to make a play for this traditionally red state.

Plouffe also highlighted registration numbers in Pennsylvania and Nevada — two major electoral prizes where new Democrats far outpace new Republicans, or where the GOP has actually dipped into negative registration numbers (meaning the party now has fewer members than it did when the year began.)
The Campaign for Change in Georgia also sent the following e-mail to supporters today:
You may have seen reports in the past week that the Obama campaign is shifting resources from Georgia to other battleground states. I want to assure you today that while the campaign will continue to make strategic decisions about the best use of resources, Georgia is still very much a battleground state.

Today we have more than 30 field offices all across the state, with two more opening just last weekend. Dozens of field organizers are working to organize thousands of active volunteers on a daily basis. In fact, our volunteer base in Georgia is one of the most active of any Campaign for Change in the country. Over Labor Day weekend, Georgia Campaign for Change volunteers registered more than 32,000 new voters. These new voters were registered not by paid field organizers, but by regular Georgians like you that volunteered for change. More than 4,000 volunteers participate on a daily basis – registering new voters, hosting house parties, or phonebanking and canvassing for change. Our huge volunteer organization will allow us to run the largest ground game Georgia has ever seen.

Georgia is a battleground state, and we need your help to turn it blue. With less than 50 days until we make history (and less than three weeks to register voters), we need everyone who is ready for change to pitch in and lend a hand. Please visit http://ga.barackobama.com to join the campaign and show America that Georgia is ready for change.